Experiments with Structural Links
Enough polemics by now! The best way to gain an understanding of structural links is practical experience by way of experimentation. This experimentation will also help you expand your concepts of structural links. A thorough examination of ancient principles of magic and other methods of AAD, some of them more recent, is going to help you gain an expansion of your concepts of space; an expansion, which is instrumental in developing new approaches to your technologies and methods of AAD. The visual space is the space that provides you with your immediate needs and interaction: food, clothing, relations, etc. The life energy space provides you with an easing of your immediate needs and an expansion of your communicative abilities and abilities to act upon your environment in general by means of AAD, which makes use of life energy. What you are going to gain is the capability of action upon an environment of which you will have created a new and more useful map. Now let's go on to experiment with structural links. For your experiments, you need the following:

1. Two identical structures. You can make a simple drawing or scribble. Make two photocopies of the drawing and discard the original.
2. Make a drawing that is somewhat similar to the drawing you have copied twice.
3. A radionics device (not absolutely necessary).
4. The orgone wand (see lesson 2)
5. A photo of the floor of the room where you experiment.
6. A floor plan of the room where you experiment.
7. The symbol below, which represents a love energy.
22-1
Practice #20: Transfer with wand.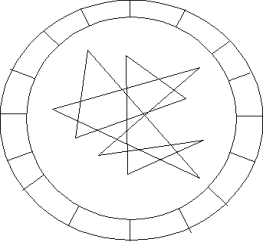 Make two copies of any type of unique design. You can design something – several straight lines – by hand and simply copy those, either by scanning and printing or simply free-handedly.
Take one of the two diagrams. Project energy into this drawing. First, do so with your hand, then with the chi energy wand. Have your partner feel the energy flowing from the other diagram by holding the palm of the hand about two inches above it.
Practice #21: Transfer with the Chi Generator
Take advantage of the free chi-card test at www.rrr.bz, if you do not have already your own chi generator! Put one of the two diagrams in front of the Chi Generator® or on top of your experimental Chi-Card.
Practice #22:
Make a "wrong" receiving symbol, but visualize "correct" receiving symbol instead. This is an exercise that demonstrates the flexibility of your mind. What happened is a lock-in by means of a "bypass." In fact, a series of abstraction-based plain technologies has been developed.
Practice #23:
Take the symbol that's not quite identical and compare with the identical one. Have two persons feel the output of both receiver symbols at the same time.
This was just a humble beginning - come back - more is to follow!